Wild Orchard
Wild Orchard are Ireland's leading homegrown smoothie supplier. We produce premium quality fresh juices, fruit smoothies and natural sparking lemonades using only fruit and natural ingredients.
shop now
Our products
Our juices and smoothies contain only freshly squeezed or fresh pressed juices and pureed fruit. Our lemonades are made with freshly squeezed juices and sweetened with natural beet sugar.
More info
100% IRISH
We are based in a little juice factory at the foot of the Galtees in Co. Limerick and produce juices and smoothies for delivery all over Ireland.
100% NATURAL
Where possible all our ingredients are sourced in Ireland. No additives, no preservatives, no stabilisers. 100% natural.
100% Delicious
Our premium quality fresh juices, fruit smoothies and natural sparkling lemonades have been enjoyed in cafes and shops across Ireland since 2001.
Lemonades
We take fresh lemons, and squeeze to extract that delicious fresh juice. The juice goes into a nice chilled tank where we add some water and natural beet sugar for a little sweetness. Then we simply take this mixture, add in some more water and some CO2 (that's the fizzy stuff), pour it into bottles and there you go.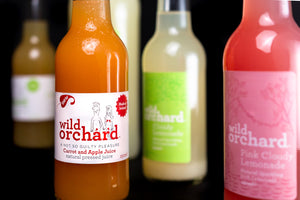 Pressed Juices
Our juices are made by expressing the juice from the fresh fruit, gently pasteurising and then bottling. This juice contains the same nutrients found in the fruit. We know that you want the best, so we offer you the best of fresh oranges, apples and carrots and nothing more (no preservatives and no sugar added)!
SMOOTHIES
Our smoothies are made ​​from a mix of various fruits. This combination gives you the smoothest and tastiest fruit smoothie you've ever experienced!
All Natural
Our ingredients are so simple. We create great lemonades using fresh lemons, Perfect for picnics.
We use only natural ingredients so that means no added colours, no preservatives and no artificial stabilisers.
Raw Juices
Cold-pressed to retain nutritional value. Cold pressure treated for product safety.